We've had a wonderful day. It began with opening our stockings, which were full of little treats and useful gadgets. A breakfast of cinnamon rolls, scrambled eggs, and English muffins followed. We opened our presents after we ate, which took a good hour or so. Each person would get a present, then we would all open them at the same time. When everyone was ready, we would each get one more present, and so on until they all ran out. It was a good way to do it, because we could all see what everyone got and it gave us good opportunities to thank each other for the prezzies!
Later in the afternoon we had our Christmas dinner of carrot soup, Cornish hens, mashed potatoes, sauteed kale & cabbage, and salad. It was delicious. Most of the rest of the day has involved playing with new presents.
Today is the last day of the December Photo Project! It's been fun :)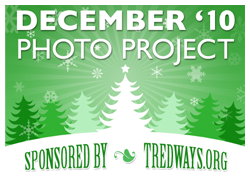 Day 25
-
Christmas Day 2010.
[The first five pictures were taken before I started using the new camera that we got for Christmas :)]
Opening presents
Setting the table
Amazing food
[New camera!]
Candid camera
Engrossed in their new gifts
Stephen being photogenic
The post-unwrapping carnage
We are currently watching Despicable Me before bed :)
Merry Christmas to all, and to all a good night!