The extended Congdon family who live near Portland have a party each year around Christmas, to catch up with each other and do a white elephant gift exchange. It seems that the family grows each year by at least 2 or 3 grandchildren, so there are always lots of little ones running around thoroughly enjoying the excitement of Christmas. Tonight some of the children put on a little nativity play, we ate good food, sang Christmas carols, and opened presents the fun way (white elephant... you can steal someone's present who went before you, or get a new one).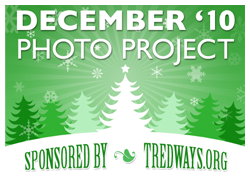 Day 23
-
The Congdon Christmas Party 2010
.
Sweet little angels singing on high.
Christmas caroling with a Congdon orchestra.
The pile of presents.
The kids opening their presents... way too excited to sit still for a picture.