Tonight we had an impromptu date night. We decided that we wanted to watch
Tangled
, but we could only find it in 3D at our usual theater in Northpark Mall, and we weren't about to fork over $15 per person for that. So we branched out and found the small Inwood theater which only has four screens, and decided to watch it there.
When we got there, we discovered we were going to watch the movie on full size cushy couches with foot rests! The theater was in an upscale neighborhood and it was really clean, but I still brought our maasai blanket in from the car to spread out and sit on top of. You never know.
Needless to say, we're never going back to the theater at Northpark Mall! It was awesome to watch a movie in a theater with couches, and surprisingly less expensive.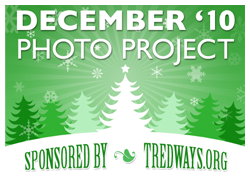 Day 10
-
The picture isn't great quality, but it's the best I could do in that lighting with my phone.
It felt like we were watching the movie at home in our living room. And Tangled was a great movie, too!
After the movie we ended up going for a late dinner at our favorite Thai restaurant, and we only got home at 11pm... it was one of the best date nights we've had in a while!